Tired of looking at those dirty, stained carpets in your home? Fear not! We've got the solution. Here, we'll show you how to clean your carpets with simple, cost-effective DIY methods.
Cleaning your carpet may seem intimidating, but with some effort and the right techniques, it's easy to get great results. First, you'll need some tools and supplies: a vacuum cleaner, a bucket, warm water, mild detergent, a scrub brush or sponge, and clean towels.
Start by removing any loose dirt or debris from the carpet surface. Vacuum the area thoroughly. This will loosen up the trapped dirt or dust particles.
Next, tackle those stubborn stains. Mix a small amount of mild detergent with warm water in a bucket. Dip your scrub brush or sponge into the soapy water and gently scrub the stained areas in a circular motion. Be gentle – rubbing too hard can damage the carpet fibers.
Once you've scrubbed the stains, rinse the areas with clean water using a sponge or towel. Make sure to remove all soap residue; this can attract more dirt in the future. Blot the cleaned areas with a dry towel to absorb extra moisture.
Now that you've successfully cleaned your carpet, maintain its cleanliness for longer-lasting results. Vacuum regularly to prevent dirt buildup. Put rugs or mats in high-traffic areas to reduce wear and tear.
Don't let dirty carpets ruin the look of your home. Take action today and give your carpets a fresh, clean appearance. By following these simple DIY methods, you can save money on professional cleaning services and get great results. So, roll up your sleeves and transform your carpets into a spotless masterpiece!
Uncover more: How To Clean Living Room Carpet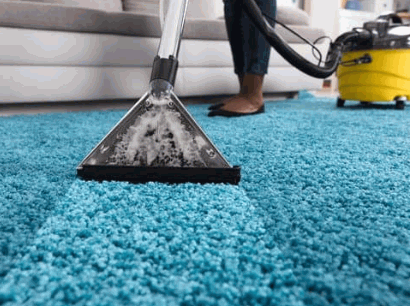 Gathering The Necessary Materials
Gather these materials to successfully clean your carpet at home:
Vacuum cleaner to remove loose dirt and debris.
Carpet stain remover for tough stains.
Scrub brush or sponge to agitate the stain remover into the fibers.
Cloths or paper towels to absorb moisture.
Start by vacuuming the entire surface. Then, apply the stain remover onto specific stains and let it sit for a few minutes. Use a brush/sponge to gently agitate the stain remover into the carpet fibers.
A clean towel is useful to soak up any excess moisture. Act quickly to prevent stains from setting permanently. Regular vacuuming can increase the carpet's lifespan by 5 years, according to The Carpet and Rug Institute. Their study shows that daily vacuuming reduces dust mite infestations and improves air quality.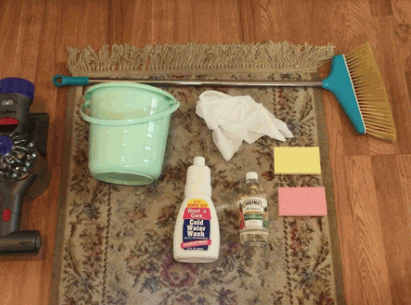 Preparing The Carpet For Cleaning
Before cleaning, take note of any loose threads or snags on your carpet and trim them carefully. Then clear the area of furniture and objects to clean every inch of your carpet. Vacuuming will remove dirt and debris, then pre-treat any stubborn stains using a suitable solution. Test any cleaning solution in a small area, follow instructions for using a carpet cleaner, and use eco-friendly solutions if you have pets or children. Finally, allow enough time for the carpet to dry completely before putting furniture back on it. These steps will help your carpet be restored to its former beauty!
Choosing The Appropriate Cleaning Method
Deciding on the right carpet cleaning method is super important for keeping your carpets looking and lasting great. Different solutions work best for different kinds of stains and fabrics. Look at these carpet cleaning methods:
| Method | Best for | How it Works |
| --- | --- | --- |
| Steam Cleaning | Tough stains | Hot water mixed with detergent was injected into the carpet. Then, the water and dirt are extracted. |
| Dry Cleaning | Delicate fabrics | Absorbent compounds spread on the carpet to attract dirt. Vacuumed away after. |
| Foam Cleaning | Lightly soiled carpets | A foam solution was applied to the carpet using a machine. Dirt is vacuumed away. |
| Bonnet Cleaning | Surface cleaning | A rotary machine and absorbent pad are used to agitate carpet fibers and remove surface dirt. |
For further info, consider this:
Enzymatic cleaners are best for specific stains like pet pee or red wine.
Eco-friendly cleaners are great for households with allergies.
For excellent carpet cleaning outcomes, remember:
Test a small area to make sure colors won't fade.
Vacuum before applying any cleaning solution.
Blot stains instead of rubbing them.
Read instructions for dosages and applications of commercial products.
By picking the perfect cleaning method for your carpets and following these tips, you can keep your carpets looking great for years!
Cleaning The Carpet
Identify the type of stain or spill on your carpet. Different stains require different solutions – like an enzymatic cleaner for pet urine or a mild detergent for food stains.
Now, take action! Blot the stain with a clean cloth or sponge. Don't scrub hard, it can damage the fibers. For tough stains, repeat blotting or use a specialized cleaner.
Drying The Carpet
Here are the steps to ensure your carpet dries fully, reducing mold risk and keeping it cleaner longer:
Blot up extra moisture with absorbent towels or paper towels. Pressure gently and repeat until no wetness is taken in.
Let fresh air in by opening windows and doors by using fans or turning on the HVAC system. This will help dry the carpet quickly.
Use a dehumidifier if it's humid or raining outside. It takes away additional moisture from the air and stops it from going back into the carpet fibers.
Don't walk on the carpet when wet. This leaves footprints and slows down the drying process.
Be patient when waiting for the carpet to dry, especially if you have cleaned it deeply or if it's thicker.
For quicker drying time, use a steam cleaner with a built-in heater. Fans should be placed around the wet areas of the carpet for better airflow. Elevate furniture legs with wooden blocks or aluminum foil, to make sure they don't touch wet carpet.
These steps ensure your carpet dries fully, reducing mold risk and keeping it cleaner longer.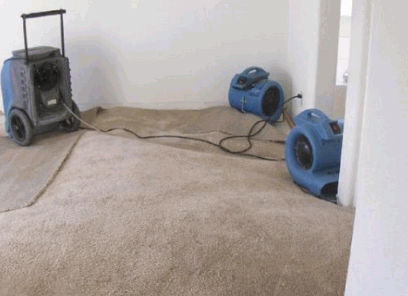 Post-Cleaning Maintenance Tips
Ensure your carpet's longevity and cleanliness with post-cleaning maintenance tips!
Vacuum regularly
Treat stains immediately
Avoid walking on damp carpets
Use carpet protectors
Rotate furniture periodically
Hire professional cleaning services
These tips will keep your carpet looking fresh for years.
Conclusion
We have been looking at ways to clean carpets at home. Let's review the key points and add extra information.
Vacuuming is essential for a healthy carpet. Regular vacuuming removes dirt, dust, and more to increase the lifespan of carpets.
Spot cleaning is also important for tackling stains and spills. Acting quickly with a cloth or paper towel can help.
Steam cleaning is done by professional cleaners. Hot water and pressure remove dirt and grime.
Did you know? Ancient Persians and Greeks used soapwort plants to clean their carpets. The saponins acted as natural detergents when mixed with water. Interesting how people cleaned carpets before modern advances!