Whether you subscribe to feng shui or you simply appreciate the difference interior design and furniture placement can make to your life, understanding the psychology behind rearranging furniture can make achieving a truly positive design for your personal space much easier. The impact that our environment can have on our mood, stress levels, energy, joy, and more can be surprisingly large and you can take control of that by proactively and intentionally choosing to rearrange furniture and interior design.
There are two main ways in which rearranging your furniture can affect your mood. The first is that the act itself of altering our environment, in this case through furniture rearranging, can have an impact on our emotions. The second is that the arrangement of the furniture and how it affects the environment in which we live can have its own impact on how we feel.
How rearranging your furniture can boost your mood
You probably have some people in your life who move furniture around in their home on a seemingly constant basis. You might think that the only reason to do so is that they become dissatisfied with the original arrangement but the psychology behind this behaviour is a little more complex than simply getting bored with how the room looks.
Having mastery over our environment can profoundly affect the way we feel. According to Psychology Today, having an impact on our environment "lifts mood, provides concrete satisfaction, and instils a sense of effectiveness".
When we rearrange furniture and other items in our home, we can feel resourceful, clever, and creative. And this can improve our self-esteem and provide us with a sense of true control. Very often the events in our lives can feel as though they are happening to us so completing a task that gives us that control can reduce anxiety, make us feel less helpless, and soothe frazzled nerves.
Getting rid of clutter, specifically, can provide us with a boost of energy as well as mood elevation. It is a way of providing ourselves with a fresh start and letting go of old attachments and emotions. Removing clutter from our home environment can be a cathartic process that brings with it relief and joy.
You can almost think of rearranging furniture as an act of self-care. It is a feel-good option that gives us mood elevation, a burst of the best energy and creativity, and provides us with concrete satisfaction that we can see all around us once we have completed the task.
If you are clearing clutter as a way to boost your mood, it can help to identify what you truly want or need to keep hold of. As William Morris said, "Keep nothing in your house that you do not know to be useful, or believe to be functional". Additional objects that don't make you happy and that you don't need to use can safely be removed to create more space for you to breathe and to fill with items that do improve your life or how you feel.
How the arrangement of your furniture can change how you feel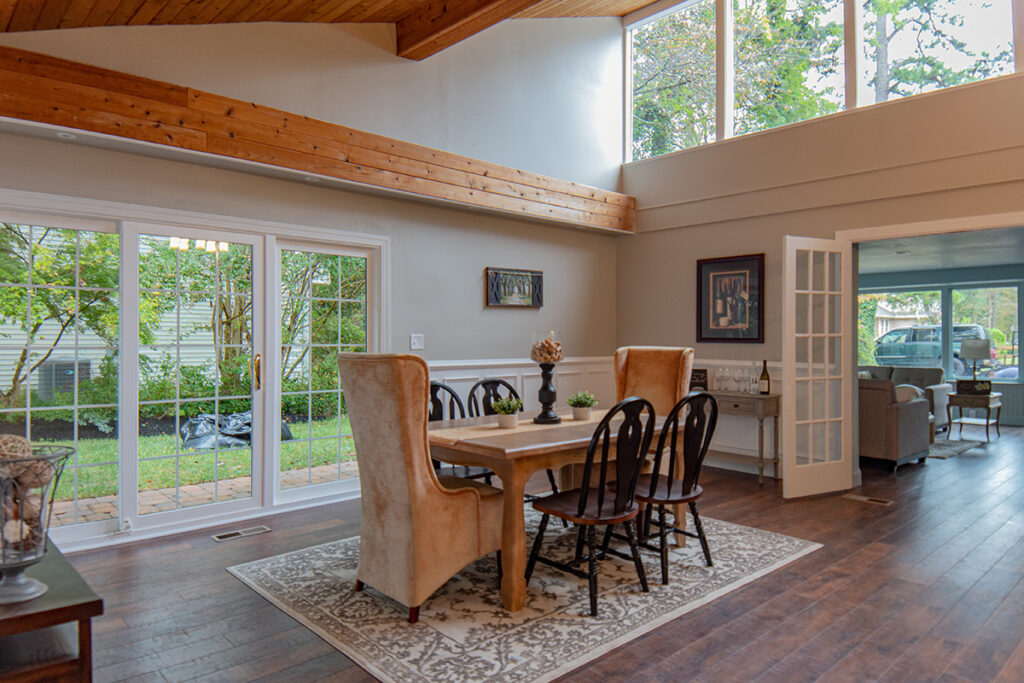 Psychology Today say that if you rearrange your furniture, it can help you to achieve inner and outer harmony. At first glance, this might seem like a strange claim when you're talking about moving some pieces of furniture around a room, but actually, the way that your furniture is arranged can have a surprisingly large impact on your wellbeing.
Let's think about what inner and outer harmony can mean in terms of your home. When your furniture is arranged in a way that makes sense functionally, this can bring peace by streamlining how you can move about and can make outer harmony happen. And when it is arranged that makes sense aesthetically, this can bring peace by aligning your space with your identity and making inner harmony happen.
Feng shui
Feng shui is one theory behind how this inner and outer harmony can be achieved with the arrangement of your house. Feng shui can seem quite "out there" when you first look into but when you scratch beneath the surface, feng shui decorating means common sense ways of rearranging your home environment to become organised in a way that makes our lives that little bit easier and less stressful. And it doesn't have to be expensive, so you don't need to worry about buyer's remorse from obtaining all sorts of pieces that you don't actually need.
According to Rodika Tichi, "What feng shui decorating means is that you create an environment that has the best energy to support the specific activity, or activities, intended for that space". With feng shui, the goal is to think about the purpose of that specific room and having the furniture relate to it and fit that purpose through the way it is arranged. Such specificity brings relief because you are no longer fighting against the room's arrangement to do the activities that you need to, but instead, you are working with it.
Let's take a look at a few examples of how feng shui can make outer harmony happen for you. Think about the traffic patterns in your home. With feng shui, the idea is that chi energy should flow through your front door and be able to travel unimpeded throughout the home, without getting blocked. People will follow these same patterns, so the layout of your home shouldn't end at a wall or other impediment.
You also need to find reasons for the chi, or people, to pause. For instance, you wouldn't expect someone to breeze through your front door, bypass your living room, and leave immediately out of your back door. Your living room should be a place to pause and breathe so it should be arranged in a way that directs people's attention to the space. You can use an interesting rug or wall decoration to slow down the energy and grab people's attention.
Natural light is also an important element, as it is for professional interior designers alike. Natural light can make you feel lighter, freer, and more energetic and it allows energy to flow easily throughout the room. And you don't want your furniture to block any of that light if you can help it.
For example, if a piece of your bedroom furniture such as your bed is in front of the window, your bedroom may feel less like a breath of fresh air and more like a claustrophobic place. A lighting scheme or cleverly placed mirrors can help to increase the amount of light in the room if there isn't much to work with.
Thinking about symmetry
Human beings find symmetry aesthetically pleasing, it is an innate part of our nervous system. And it comes down to how our brains process the world. They are always trying to make processing as easy as possible and symmetry is pleasing because it creates a pattern that doesn't need to be focused on in too much depth. We find faces that are more symmetrical attractive and we find rooms that are more symmetrical attractive for the same reasons.
But this doesn't only apply to rooms, symmetry can also enhance pieces of furniture. Take display cabinets for example. When designing or rearranging a display cabinet take time to step back, think about what to put in a display cabinet. and is it symmetrical and atheistically pleasing? Achieving this takes time, so little adjustments now and then can make the world of difference.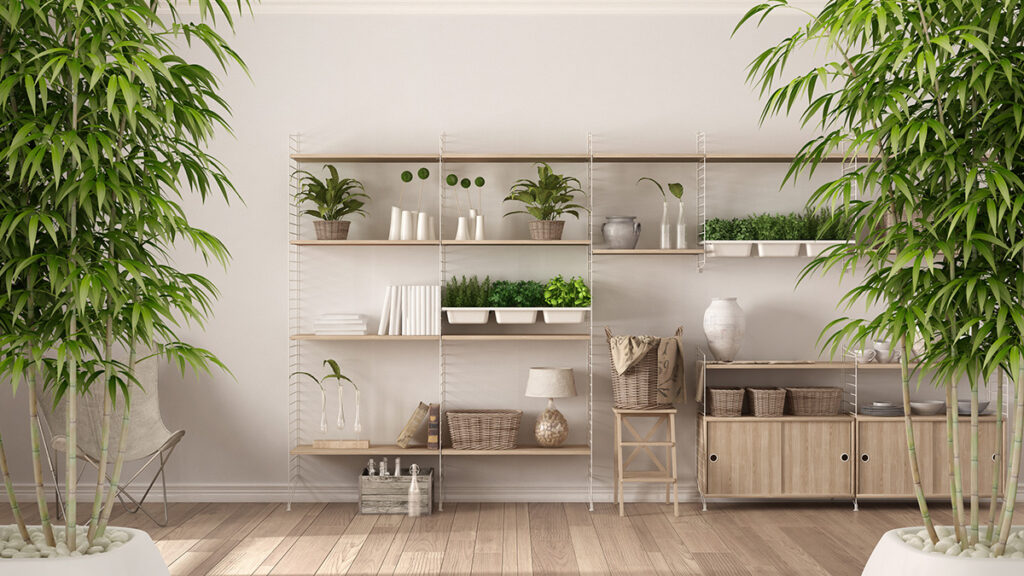 Focusing on symmetry can be one of those easy DIY home projects that don't require a huge amount of creativity. Not everyone is one of those creative people but we do all have a natural sense of symmetry. To rearrange your room to make it symmetrical, that doesn't mean that you have to have two pieces of every piece of furniture. But it means that the area should be balanced.
The best way of doing this is to rearrange your room around a natural focal point. A great example of this is your front room. Here, the natural focal point will likely be the sofa. Wherever you place that will be the centre, and then you can rearrange the rest of the pieces so that they balance the sofa. Again, that doesn't mean that the pieces on each side need to be identical. They can instead be a similar form.
It might take a little while to achieve the balance that you're looking for with creating the symmetrical new space but you do have an innate sense of symmetry so you will find the perfect balance simply by listening to your gut.
On the other side of the symmetry debate, asymmetry does also have its place. An asymmetrical element to a room can draw the eye and be interesting and pleasing. This is one of those opportunities to hone your aesthetic which can help you to feel creative and accomplished. You can have your furniture relate to your personality and can be a true feel-good option for you every time you walk into the room. And it can help you to hone your aesthetic and identify your personal sense of style.
Reducing clutter
We have already covered the fact that the act of clearing clutter can have a positive impact on how you feel. But reducing clutter in a meaningful way can leave you with a room that makes you feel good whenever you spend time in it.
Additional objects that don't totally align with the room or improve how you feel can drag the overall feel of the space down and make it feel unwelcome and stressful. This comes back to how we process the spaces around us. When there is too much going on, this can give us sensory overload which can increase our stress levels.
This isn't to say that everyone should live in a minimalist paradise. Instead, improvement occurs when you have objects and furniture that relate both to the room itself and to how you feel. And you don't even have to throw everything away. Re-purposing the objects you already own can completely alter the space.
For example, if you have photographs randomly dotted around the room, you can rearrange them by creating gallery walls instead, which can make the space more organised and make the photographs themselves much more pleasing to look at.
Again such specificity brings relief because it means that there is a purpose and deliberate design behind the way that your space is arranged, and this can help you to feel calmer. And by re-purposing the items you already own, you can identify what you truly care about both in terms of sentimentality and in terms of how to hone your aesthetic. You also won't get buyer's remorse from getting rid of something that deep down you love and replacing it with something that doesn't bring you joy.
Decluttering on a regular basis in this mindful manner can be thought of as a form of apartment therapy and it will also slowly bring you the house that is perfect for you and your needs. Improvement occurs over time for so many things and honing the arrangement of your house is exactly one of those things.
The bottom line
If you feel unsettled in your bed or your living room or you easily get stressed in your kitchen, moving things around in your house in a way that makes sense can do wonders for your emotions. We all feel like we have too much "stuff" but that may not always be the case.
By being mindful in the way you rearrange your personal items, you might find that you end up being able to hone your aesthetic and identify the things that are truly meaningful to you (and find the ability to decide to get rid of the other things that aren't). There is a metaphor there and as cheesy as it may sound, going through this process with your house can truly help you to go through this process with your inner self.
Looking for more interior design inspiration? Looking for that next DIY project? Head on over to our blog and read some of the fantastic pieces we have covering multiple subjects.