Damp-proofing a retaining garden wall is key to preserving both its structural integrity and the surrounding landscape. Taking preventative measures can guarantee your garden wall stands firm against moisture damage.
Retaining garden walls are useful and attractive additions to any outdoor space. They stop soil erosion, create differing levels in the landscape, and add visual appeal. However, these walls are exposed to different weather conditions, such as rainwater and humidity, which can lead to dampness issues over time.
To properly damp-proof a retaining garden wall, starting with correct construction methods is essential. Utilizing quality materials like waterproof mortar or cement mixtures can raise the wall's resistance to moisture penetration. Additionally, including a damp-proof membrane during construction or applying an outside tanking system after construction provides extra protection.
Regular maintenance is also an important element in avoiding dampness issues in garden walls. Keeping the wall clean of dirt and debris allows for better water runoff and reduces the odds of moisture accumulation. Inspecting the wall for cracks or gaps periodically and fixing them swiftly helps preserve its durability.
Damp-proofing a retaining garden wall needs careful consideration and proactive measures. By utilizing proper construction techniques, conducting regular maintenance checks, and seeking professional guidance when needed, you can guarantee your garden wall remains strong and attractive for years to come. Let's now explore the various methods and techniques that can help damp-proof your retaining garden wall efficiently.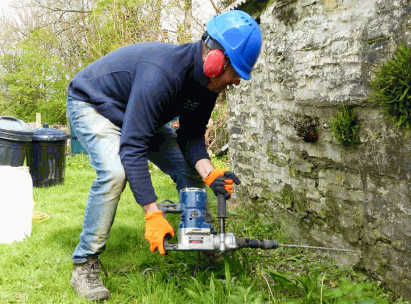 Understanding The Importance Of Damp Proofing For A Retaining Garden Wall
A damp-proof barrier is a must for any retaining garden wall. Without it, moisture can seep in, weakening the wall and causing structural issues. Plus, mold, mildew, and other bad microorganisms can grow and cause health issues.
The right materials must be used depending on the soil composition and water table levels in your area. For maximum protection, consult a professional who specializes in waterproofing systems. They will identify problem areas and provide tailored solutions.
Assessing The Condition Of The Retaining Garden Wall
Assessing a garden wall's condition is essential to deciding the amount of damp-proofing needed. Here's a 4-part guide to assess your wall:
Look for cracks or damage: Check the entire area for chips, crumbling mortar, or any cracks. These can show weaknesses that may let in moisture.
Check for water stains or white powdery residue: Spot water seepage discoloration on the wall or white powdery residue – 'efflorescence'. This implies that water has been evaporating from within the masonry.
Observe soil movement near the wall: See if there are signs of soil shifting or bulging close to the wall. Unstable soils can cause lateral pressure, leading to structural instability and possible dampness.
Monitor drainage conditions: Check gutters, downspouts, and surface runoff paths to see how well the drainage system works. Poor drainage can cause too much moisture around the retaining wall.
Plus, note any damp issues that occurred before and make sure they have been taken care of before doing anything else.
Pro Tip: Get professional assistance when assessing the wall's condition to make sure damp problems and proper measures are identified and taken immediately.
Gathering The Necessary Materials And Tools
To damp-proof your retaining garden wall, gather the following materials and tools:
Waterproof membrane: Purchase a high-quality, outdoor-resistant version.
Damp-proofing paint or sealant: Choose one that creates a barrier against water infiltration.
Paint roller or brush: To apply the paint or sealant evenly.
Cleaner/brush: To clean the wall's surface.
Protective gear: Wear goggles, gloves, and a mask.
Research and select the best materials and tools according to the wall's material and condition. Consult with experts for tailored recommendations. Opt for high-quality products with good adhesion, long-lasting protection, and UV resistance. Use an appropriate painting tool for optimal coverage. With these materials and tools, you can provide your wall with effective damp-proofing and long-lasting protection.
Preparing The Retaining Garden Wall For Damp Proofing
For any home improvement project, proper preparation is vital. This is especially true for protecting your garden wall from dampness. By following these steps and investing in suitable products, your structure will stay dry and you can enjoy your outdoor space for years.
Steps to take:
Clean the wall surface with a stiff brush or pressure washer, to remove dirt, debris, and loose materials.
Look for cracks or damage that can let in moisture and repair them with filler or mortar.
Apply a waterproofing primer using a brush or roller, to create a barrier against water penetration.
Install a damp-proof membrane on the entire wall.
Finish off with a weather-resistant render or coating.
Plus, take into account drainage and landscaping around the wall, to prevent water accumulation and damage.
Applying A Damp Roofing Solution
Clean the wall properly, using a wire brush or scraper for tough debris.
Find a damp-proofing product suitable for the wall material. Ask a professional if you're not sure.
Follow the manufacturer's instructions to mix the solution.
Apply an even layer of the product with a brush or roller.
Let the solution dry fully before applying more layers.
Check the wall for coverage.
Inspect regularly for moisture and damage.
Don't neglect damp-proofing – it can cause mold and instability.
Take action to protect your retaining garden wall and have a durable structure!
Uncover more: How To Damp Proof Wood Walls DIY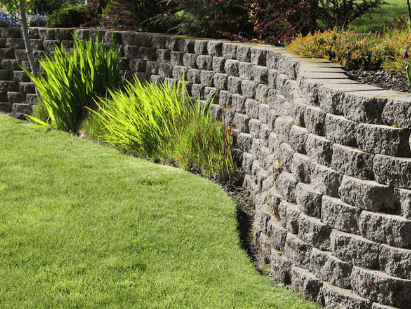 Adding Additional Protective Measures
To protect your retaining garden wall, extra steps are needed. These can ensure its durability and structural integrity for years. Here's a 6-step guide:
Evaluate the wall's condition and check for any damage or weaknesses.
Clean the surface with a water and detergent mix. This is for proper adhesion of protective materials.
Apply a waterproof coating for masonry surfaces. Use a brush or roller.
Add drainage systems, such as weep holes or French drains, at regular intervals along the base of the wall. These help redirect excess water away.
Consider adding a waterproof membrane for extra protection. Put this on the entire wall before backfilling with soil.
Implement proper landscaping techniques. Grade and slope away from the wall to prevent water accumulation. Place plants and shrubs near the wall for water absorption and erosion prevention.
These measures help make the wall stronger against dampness and deterioration. They also reduce maintenance requirements and prolong their lifespan.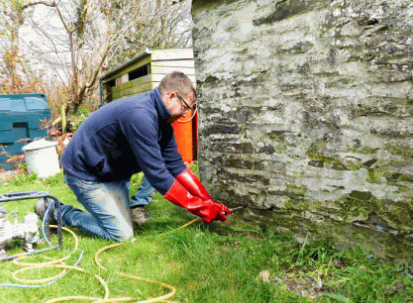 Maintaining The Damp Proofed Retaining Garden Wall
Regularly inspect the wall for cracks & fill them.
Monitor drainage nearby. Clear any blockages.
Clean the wall surface from time to time.
Maintain landscaping: avoid planting trees too close.
Redirect water flow away from the wall.
Schedule professional inspections.
Be attentive to details and design.
For persistent dampness, consult a specialist.
Conclusion
Ensuring the durability and strength of a retaining garden wall is essential and can be done with proper damp-proofing. Here are some steps to follow:
Pick a high-quality waterproof material, such as damp-proof bricks or concrete blocks.
Moreover, coat the external surface with a waterproof coating to provide an extra layer of protection.
Additionally, install drainage systems and weep holes to enable water drainage.
Furthermore, slope or grade the area around the wall to divert rainfall away from it.
Lastly, inspect and maintain the wall regularly. Fix any cracks or damages and clear any debris or vegetation near it.
Doing so will ensure your wall remains damp-proofed and intact.