Rendering your house is a very popular option for many people. There are lots of different rendering options, such as sand and cement, K-rend, pebbledash, wet dash, and monocouche rendering. Monocouche means "one coat" in French, and unlike other rendering options such as sand and cement, it can be applied in one go. But what exactly is monocouche rendering? And why is it so popular?
Monocouche rendering: what is it?
This and other types of rendering have been described in much more detail by Render Hero who are exterior rendering specialists from Newcastle from whom we have gathered most of this information but we are going to simplify it a little.
Monocouche render is a dry powdered render. It sometimes confused with cement render, but its properties are actually quite different. While it does have cement as an ingredient, it uses white cement rather than the grey cement that is used in traditional rendering. This gives it a very different finish.
Because of this difference in materials, monocouche rendering has through colour. White cement is more porous than grey cement, and this allows the render to be pigmented in whatever colour you want. And it never needs to be painted.
Monocouche render can also be finished in a variety of ways (although it is usually scraped to give a pitted effect) and it provides a chalkier flat finish overall. This can make the exterior of your property look crisp and fresh. This crispness as well as its low maintenance makes it a popular choice for new-build homes but it can also be applied to older homes to refresh them.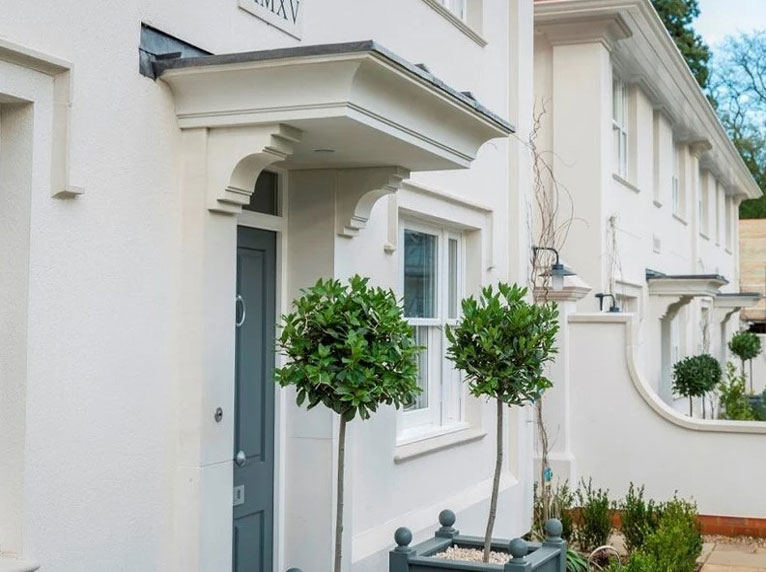 What are the benefits of monocouche rendering?
If you're considering whether monocouche rendering is right for your home, there are lots of elements to consider.
1) It is convenient
Monocouche rendering can be applied in one go. It is applied in two passes, and can be troweled (or sprayed) and scraped on the same day. This is obviously an advantage both in terms of how long it takes to finish the project and in terms of reducing costs such as scaffolding and labour.
2) It is less prone to cracking
One of the big downsides of using sand and cement render is that it is fairly inflexible. Your home will expand and contract depending on weather conditions, and because sand and cement render is inflexible, this can make it prone to cracking. In contrast, monocouche render is flexible, meaning that it can expand and contract with the house without cracking.
3) It is durable
Monocouche render is guaranteed to last at least 10 years. So once it is on your home, you don't have to worry about rendering for at least that long.
4) It is low-maintenance
Sand and cement render isn't capable of holding any pigmentation because of the type of cement used, so requires painting around every four years. Painting a whole house of render is a big job, and can sometimes be costly. With monocouche render, you never need to paint it because it has through colour. This means that the colour goes all the way through the render. So even if you get any scrapes or scratches on it, the same colour will show through and they will be barely noticeable.
5) It has a lot of variety
You can choose exactly how you want your house to look with monocouche render. There is a huge range of colours available, and also a range of finishes. These include scraped, roughcast, or dry-dashed, and you can also make ashlar and quoin features using it.
6) It is weatherproof
As we all know, the weather in the UK can be dismal at times, so you really need your home to be able to stand up to all sorts of weather conditions. Monocouche render is both waterproof and weatherproof, so will protect your home from the elements, whatever they are.
7) It is insulating
Another important feature of monocouche rendering is that it is insulating. What this means for you is that you won't need to use your central heating as much to heat your home. And not only will this save you on your energy bills, but it is also better for the environment.
In summary
Monocouche rendering can be a really good choice for all sorts of different homes, from new-builds to much older houses. It is convenient, less prone to cracking, durable, low-maintenance, weatherproof, insulating, and there is a lot of variety in terms of colour and finish. There is a good reason why it has become one of the more popular rendering choices in recent years.