Toaster radiators, hot water, and steam showers are all essential things in most homes, and a combi boiler makes it easier to switch from one to another thanks to a diverter valve.
A diverter valve diverts water to the faucet you need it. Therefore, if this crucial component starts to malfunction, then you will experience intermittent heating, lukewarm water, or even no heating at all.
It is, therefore, important to understand what a diverter valve is and how it works so that you can be in a better position to understand how to fix it in case it becomes faulty.
In this guide, we discuss what a diverter valve does, how it works, and how to know when it is at fault.
Let's get started…
What Does a Diverter Valve Do?
The diverter valve in your combi boiler is a valve that opens and closes to allow heat to your radiators or hot water to your faucets.
In other words, when you turn on your hot tap, it is the diverter valve that directs hot water to the faucet. This means you get hot water instantly whenever you want it. Also, if you switch on your central heating unit, then hot water will be sent to your radiators.
However, it is important to mention that the diverter valve prioritizes hot water to your faucet over radiators and thus will close the heating supply until you switch off hot water taps. Once you turn off hot water taps or shower, the hot water will be directed to your radiator.
How Does A Diverter Valve Work?
As we mentioned earlier, the diverter valve responds to your hot water requirement, whereby it makes water available to your shower or hot taps whenever you need it.
In terms of how it works, we can simply say that it acts as a gatekeeper for hot water, whereby it sends water that is heated in your combi-boiler to where you need it at that moment.
This means that when you switch on hot water taps, the diverter valve closes off the central heating supply and sends water to the plate heat exchanger for heating, and this is how you get the hot water in your tap or shower.
When you turn off the hot tap or shower, the diverter valve closes off the water supply and directs it back to the plate heat exchanger to feed your radiator with hot water.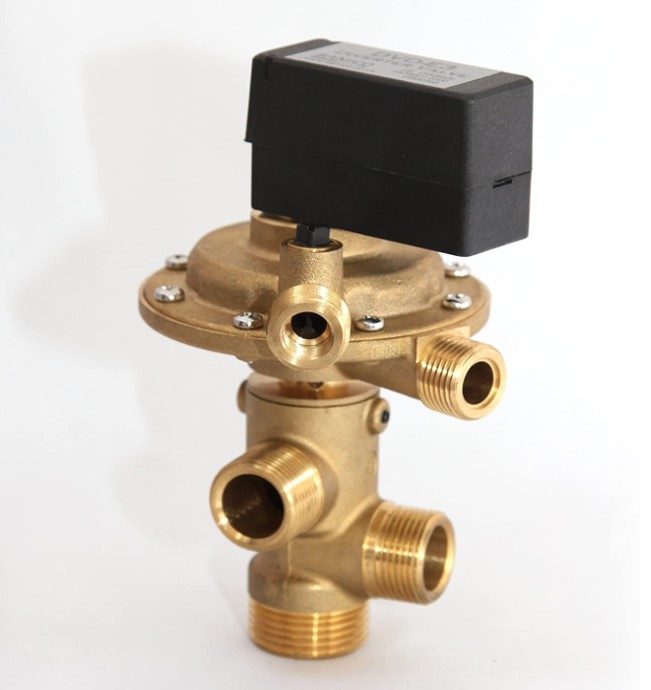 Check price for this Combi Boiler 3 way Diverter here
Common Diverter Valve Problems
Thanks to our friend and heating engineer Ben Race from the Easy Boiler Company for the facts below.

To execute its function of diverting water to where it is needed, the diverter valve is fitted with several moving parts that control water flow and direction. These parts tend to degrade over time. Here are the common issues that can signify there is a problem with your combi-boilers diverter valve;

Having lukewarm water in your hot taps and shower
If the water coming out of your showers and taps is only lukewarm, this can be an issue with your diverter valve. In most cases, the problem comes because the valve is getting stuck, which means that hot water that should go to the showers and tap is getting lost.
This may cause an increase in annual energy bills as more heat is getting lost. If this happens, you will want your valve to be repaired as soon as possible.

You have hot water but no heat
Another indicator that your diverter valve has a problem is when you have hot water in your showers and taps but no heat from your radiators.
This often indicates the diverter valve is stuck on the hot water side. As we mentioned earlier, the diverter valve prioritizes hot water in your faucets over radiators. Therefore, when it gets stuck on the hot water side, then you will have hot water coming out of your taps, but the radiator won't heat.

No hot water
This is the clearest indicator that your diverter valve is at fault. If the water won't heat up, even after letting it flow for some time, then there is something wrong with your diverter valve.
In most cases, all these problems result from the diverter getting stuck due to the build-up of limescale or moving parts getting worn out.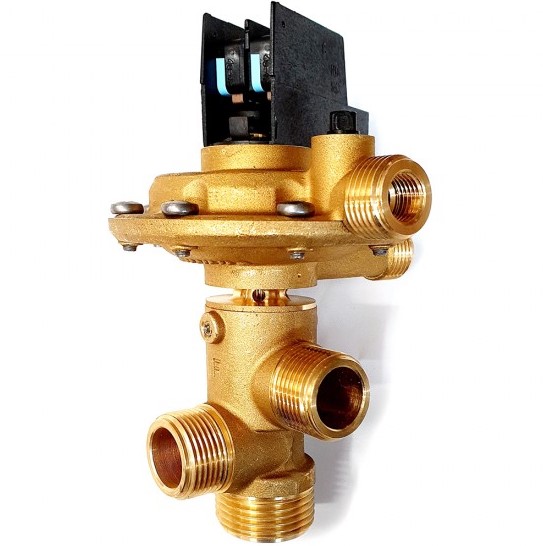 Check Prices Of Diverter Valves Here
How do you fix a faulty diverter valve?
If you are experiencing hot water issues emanating from the diverter valve, we recommend that you call a registered plumber or gas engineer to fix the problem.
A professional will assess the heating system and see whether the diverter valve is to blame or there is a serious underlying problem. They can advise you on the way forward.

A detailed look at how diverter valves work