Outdoor carpets on patios can quickly become dirty and stained. Keeping them clean is a must. Here, we'll look at how to do that.
First, use a vacuum to remove any debris or loose dirt. This will stop it from getting stuck in the carpet fibers.
Then, make a solution of warm water and mild detergent. Avoid harsh chemicals – these may damage or discolor the carpet. Apply the solution with a scrub brush or sponge, working in small sections. Be gentle – don't damage the fibers.
After applying the soapy solution, rinse the carpet properly with clean water. Use a garden hose or pressure washer and make sure all the soap is gone.
Finally, let the carpet air dry before placing furniture or walking on it. This will stop moisture from getting trapped, which could cause mold or mildew.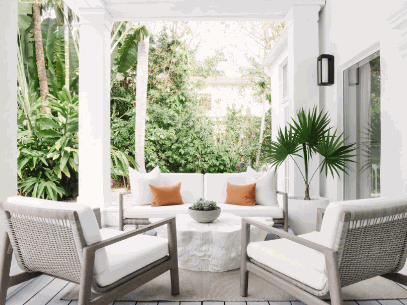 Gather The Necessary Tools And Materials
Clean your outdoor carpet on the patio. No problem! First, gather your tools and materials. You'll need a broom, a vacuum cleaner, a bucket with warm water, mild detergent or carpet cleaner for outside use, a scrub brush/sponge, and a garden hose.
Step 1: Use the broom to get rid of loose dirt and debris.
Step 2: Vacuum for deeper cleaning. Get all areas, corners, and edges.
Step 3: Refer to manufacturer guidelines or ask a professional for special carpets.
Pro Tip: Test any cleaning product on a small, unseen spot on the carpet. Make sure it won't discolor or damage.
Clear The Area
For a clean patio carpet, it's a must to clear the area. This not only improves its look but also prevents dirt and debris from clumping. Here is a 3-step tutorial:
Get rid of furniture and objects: Start by taking out furniture, plants, and other items from the patio. This will give you an uninterrupted space for cleaning. Store these things in a secure spot until the cleaning is done.
Sweep or use a vacuum: Use a broom or vacuum cleaner to take out loose dirt, leaves, and debris from the patio. Focus on corners and difficult-to-reach spots where dirt usually piles up. Doing so will make the cleaning more effective.
Clear out obstacles: Check the patio and spot any obstacles that may stop proper cleaning, like toys or scattered items. Remove these obstacles carefully so you can get to all parts of the outdoor carpet without any interference.
Also, specialized tools such as leaf blowers can speed up the clearing process by removing lighter debris rapidly.
Now that you have cleared the area, it's time to focus on other steps to keep your outdoor carpet clean.
Throughout history, people have tried different ways to efficiently clear outdoor areas. From manual labor using brooms and rakes to innovative inventions like leaf blowers and power vacuums, we are continuously looking for cleaner surroundings. This shows our never-ending quest for spotless outdoor spaces.
Remove Loose Debris
For effective cleaning of outdoor carpeting on your patio, it's essential to begin by getting rid of any loose debris. This helps make a tidier, more attractive patio for you and your guests.
Use a broom or a stiff brush to sweep away leaves, dirt, and other bits.
Gently shake or tap the edges of the carpet to dislodge embedded debris.
If there are stains, gently scrub them with a soft brush and the right cleaning solution.
Don't use too much force while sweeping or scrubbing, to avoid damaging the carpet fibers.
Think about using a leaf blower if there's too much debris to be removed quickly.
Moreover, be aware that different types of carpets need special cleaning methods. It's wise to check the manufacturer's recommendations for the best cleaning technique.
Also, regular maintenance of your outdoor carpet can prolong its lifespan. According to Outdoor Living Brands, the right cleaning and care can enhance the life and beauty of your outdoor carpeting.
Vacuum The Carpet
It's essential to vacuum your outdoor carpet regularly to keep it clean and prolong its life. Here's a guide to help you do it right!
Prepare the area: Take out furniture and large objects from the carpeted area.
Choose the right vacuum: Pick one with strong suction and attachments suitable for outdoors. It should have a brush attachment too.
Start at one end: Vacuum one end and work your way to the other. Use overlapping strokes for thorough cleaning.
Take care of corners and edges: Use a crevice tool or attachment to reach those hard-to-reach spots.
Empty/vacuum out filters and canisters: Do this often during the cleaning process to avoid clogging.
Also, check with the manufacturer for specific care instructions. Now go grab your vacuum and get started! Enjoy your clean and fresh patio haven!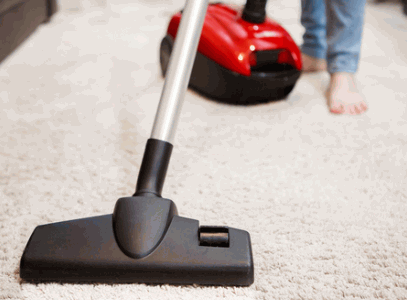 Spot Clean Any Stains
Spot clean stains on your outdoor carpet with ease! Try these 6 steps:
Identify the stain first.
Blot it with a cloth or paper towel.
Make a cleaning solution with mild detergent and warm water.
Apply it with a brush or sponge.
Rinse off the solution.
Air dry the carpet.
Don't let the stain sit and do regular maintenance like sweeping and vacuuming.
Pro Tip: Test any cleaner on an unseen area of the carpet before applying it to avoid discoloration or damage.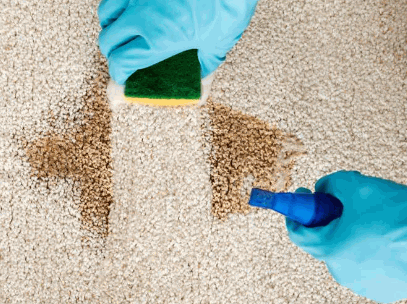 Deep Clean The Carpet
Preparation: Begin by removing any furniture or objects from the carpeted area. This will ensure that you have access to the entire carpeted surface and allow for a thorough cleaning.
Vacuuming: Use a vacuum cleaner with a hose attachment to remove loose dirt, debris, and pet hair from the carpet. Make sure to go over the entire carpeted area multiple times to capture all the dirt particles.
Spot cleaning: If there are any visible stains or spots on the carpet, treat them with a suitable carpet cleaner or stain remover. Follow the instructions on the product for best results and ensure that you thoroughly rinse and blot the area after cleaning.
Shampooing: Depending on the type of outdoor carpet, you can use a carpet shampoo or a mixture of mild detergent and water. Use a scrub brush or a sponge to apply the cleaning solution to the carpet, working in small sections at a time. Scrub the carpet gently to remove dirt and grime.
Rinsing: After shampooing the entire carpet, rinse it thoroughly with clean water. This can be done using a hose or a pressure washer, making sure to remove all traces of the cleaning solution. It is essential to rinse properly to avoid any residue that may attract more dirt and stains.
Drying: Allow the carpet to dry completely before placing any furniture back on it or using the patio. This can take a few hours to overnight, depending on the weather conditions. Avoid stepping on the carpet until it is completely dry to prevent new dirt from getting tracked in.
In addition to these steps, it is crucial to regularly maintain the cleanliness of your outdoor carpet by sweeping away debris and spot-cleaning any spills or stains as soon as they occur. By following these suggestions, you can keep your patio carpet looking clean and fresh, ensuring its longevity and enjoyment throughout the year.
Save money on renting or purchasing a carpet cleaner by simply inviting your dirt-loving friends over for a barbecue – their footprints will do the cleaning for you!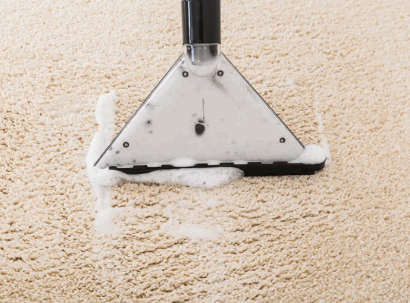 Rent Or Purchase A Carpet Cleaner
Deciding whether to rent or buy a carpet cleaner is a big deal. Here are 5 things to think about:
Cost: Renting may be cheaper if you only need it sometimes. Buying could be a better long-term investment if you use it often.
Convenience: Renting is convenient because you don't have to keep it. Buying means you have it whenever you need it.
Quality: Rental cleaners are for commercial use, so they're high quality. Buying lets you pick what meets your standards.
Maintenance: If you rent, the company takes care of maintenance and repair. Buying means you take care of it.
Flexibility: Renting lets you try different models. Buying lets you clean when you want.
Plus, regular maintenance and proper use are important no matter what. Remember, before machines, people scrubbed carpets with soap or detergents by hand! But now there are electric machines, steam cleaners, and dry foam extractors—all thanks to research and development.
Choose carefully to get the best carpet cleaner for you, and your carpets will stay clean for years.
Prepare The Carpet Cleaner And Cleaning Solution
To get a great carpet clean, it's important to be ready. Here are the steps:
Gather the needed supplies: Get your carpet cleaner machine, cleaning solution, hot water, and gloves ready. Having them all near makes it easier.
Dilute the solution: Read the instructions on the bottle and mix the solution and hot water in a container or in the machine's reservoir. Following the directions will give you good results.
Prepare the machine: Fill the tank with the diluted cleaning solution. Most machines have clear markings for different room sizes. Don't overfill it.
Check for accessories: Your model may have attachments for stains or tight corners. Attach them well.
By following these four steps, you can get your carpet cleaner and clean solution ready. Plus, clean up clutter before starting to make sure you don't miss any spots. Revitalize your carpets today! They'll feel fresh and look great.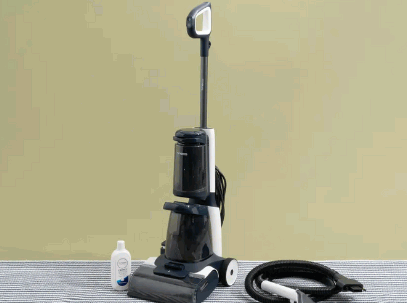 Clean The Carpet In Sections
Cleaning carpets in sections is an effective approach to a deep clean. Split the job into segments, and give each area your full attention for the best results. Follow this simple 3-step guide to clean your carpet in sections:
Prepare the area: Move any furniture or objects. This ensures you can reach all parts of the carpet without any obstacles.
Vacuum thoroughly: Use a high-quality vacuum to remove dirt, dust, and debris. Focus on busy spots and stains.
Clean with precision: Find a product suitable for your specific type of carpet. Apply it evenly and scrub gently with a brush or sponge, focusing on any stains. Rinse with clean water and dry with a towel or wet/dry vacuum.
Keep in mind special details. Consider using a steam cleaner for sanitization. Test any product on a small, hidden area before using it elsewhere. To avoid future dirt, apply a protective spray or treatment after cleaning. This makes future cleanings easier.
By following these steps and paying attention to details, your carpet will receive a professional-level deep clean.
Uncover more: How To Clean Carpet At Home DIY
Allow The Carpet To Dry
Post carpet cleaning, it's vital to let your carpets dry completely. This step is essential for keeping carpets clean and in good condition. To make sure your carpets dry properly, follow these steps:
Ventilate: Open windows and doors to circulate air.
Fans: Place fans around the room to help dry.
No walking: Don't walk on the wet carpet as this could leave footprints.
Elevate: Put aluminum foil or blocks under furniture legs to stop moisture from going back into the carpet.
Prioritize natural light: Move any items that block sunlight from reaching the carpet area.
Patience! Allow time for the carpet to dry before reintroducing foot traffic.
Be patient with this step, as it affects the cleanliness of the carpet. Also, don't use electric heaters or too much heat close to wet carpets, as it can harm the fibers or cause discoloration. Safety first!
Oh, and did you know? CRI says that carpets that are well looked after last twice as long as those that aren't.
Treat Any Remaining Stubborn Stains
Stubborn stains? Don't worry! You can make those patio carpets spotless again. Here's how:
| Step | Instructions |
| --- | --- |
| 1 | Blot the stain with a cloth or paper towel, avoiding rubbing. |
| 2 | Mix mild detergent/carpet cleaner with warm water to create a soapy solution. |
| 3 | Use a soft-bristled brush/sponge to scrub the stained area in circular motions. Rinse brush/sponge often. |
For tough stains like oil/grease, sprinkle baking soda first. This will help absorb moisture and lift the stain.
Try these steps and your patio carpets will be as good as new!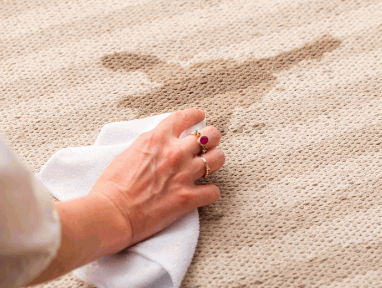 Protect The Carpet
To keep your outdoor carpet in tip-top shape, follow these tips!
Cover it with a protective tarp when not in use. This shields it from dirt, moisture, and debris.
Clean and vacuum regularly with a brush attachment designed for outdoor carpets.
Spritz it with stain-resistant spray to make messes easier to clean up.
Lastly, don't leave heavy furniture on it for a long time. Use furniture pads or rugs to evenly distribute the weight.
If you do all this, your outdoor carpet will stay looking fresh for years to come!
Regular Maintenance Tips
Regular maintenance is key to keeping your outdoor carpet looking beautiful. Follow these 3 easy steps to keep it clean and vibrant.
Step 1: Vacuuming. Use a vacuum with a brush attachment to remove dirt and debris. Move straight along the carpet to clean it well. Pay attention to high-traffic areas.
Step 2: Spot cleaning. For spills and stains, act fast. Blot with a cloth or paper towel, but don't rub. Mix mild detergent and warm water, and lightly scrub the stained area. Rinse and dry.
Step 3: Deep clean. Do it once or twice a year with a carpet cleaner, or hire professional services. Follow their instructions for the best results. This will help remove dirt and make your carpet look like new.
Prevent mold and mildew by drying the carpet after cleaning or exposure to moisture. Avoid harsh chemicals or abrasive cleaners.
So, give your outdoor flooring some TLC! Clean and maintain it regularly, and create a welcoming space for relaxation and entertainment.
Conclusion
On your journey to clean your outdoor carpet on the patio, we've shared many effective strategies. Now you can make your carpet look great and last longer. Cleaning and maintaining your outdoor carpet is crucial for it to perform optimally.
Using a doormat can decrease dirt and debris buildup and reduce the need for deep cleaning sessions. Plus, purchasing a high-quality carpet material that is resistant to stains, water, and UV rays can extend its lifespan.
Spot-testing any cleaning solutions or detergents on the carpet before use is important too. This makes sure there are no bad results or color fading.
Let your patio sparkle with a clean outdoor carpet – a sign of your commitment to keeping a perfect living area.