What a wonderful experience it is to design your furniture using your own hands. This is all possible to do using the DIY ideas of pallet furniture wherein you can reshape the wooden pallet and turn them into useful furniture in your home. Designing furniture with the wooden pallet is becoming popular today. The ideas about the DIY pallet furniture are a good way on how to make your own furniture in your homes. The wood used in pallets is often oak or southern yellow pine as they are both known for their strength and density which of course is ideal for stacking weight.
Some of the popular ideas for pallet furniture are the pallet chairs, pallet sofa, pallet bed, and the pallet tables. You can design, reshape and remodel the furniture in your homes or in your workshops. You can make all of these in your own with the pallet DIY ideas. These DIY ideas can be very useful in a lot of things. The wooden pallet is usually used in shopping but this is actually a material that can be very useful in order for you to make perfect and fit furniture in your homes.
The wooden pallet became very popular due to the amazing and creative designs that you can make out of this. It can be disassembled into wooden planks and use it in any size of projects that you want. You can turn it into something you need for your children. It can also be turned into clever furniture and other things for your house.
For decades, the wooden pallets are a mechanism for storing bigger items. These are also useful when shipping. Nevertheless, the wooden pallets are a useful resource in the designs and decors in your homes.
Wood Pallet Tables
You can create your original tables just by using four pieces of wood pallets. Pallet tables are also considered to be functional for indoors or outdoors use. With the rustic look and a simple look of this pallet table, its size can also be customized. You may as well change its design that depends on kind of designs you want. Make sure that you choose those wood pallets that are not chemically treated. You can wax it with oil or use polyurethane for its durability and for weather proofing purposes.
You can also make an easy rolling table from the wood pallet. This can be used as a table in your outdoor activities. This can also be used when you want to relax outside your house with your friends or with your family.
In addition to that, you can make this kind of table through the use of two wood pallets and one beam which are cut into four pieces, L – brackets, caster wheels, gray strain and screws. Through the use of these things, you can have a fabulous rolling table as your coffee table outside the house. This is also great to use while you eat your snacks with your friends.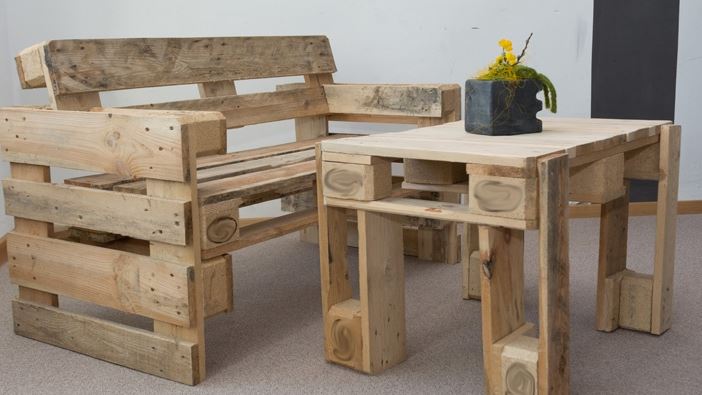 Pallet Swing Chairs
You can make a pallet swing chair using wood pallets. You will just craft the wooden pallet and make a quality swing chairs from a wood pallet. You can also make a unique and cozy swing chair in your home. This can also be made useful for you and for your family. This is especially true if you have kids. You can enjoy it during the summer sitting outside your homes with your family and your friends. Here is a great tutorial on how to make a pallet swing chair. Of course this is one of the more challenging pieces of furniture to make at least compared to floor-standing boxy types so if you are flush with cash then there are some fairly cheap yet quality patio swings here at The Patio Depot.